Lesson Prices and Offers
Individual ½ hour lesson £38
Why not take advantage of our Summer offer of five ½ hour lessons for £175. With this package you can cover all topics - Driver, Irons, Chipping, Putting and Bunkers. Go on, improve your golf for the rest of the Summer.
Quote from Nick Faldo: "It's better to spend £200 on lessons to improve your game rather than spend £200 on a driver that you hope will improve your game."
Individual Coaching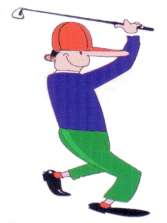 Mark has been Head Professional at Henley Golf Club for over 20 years where he designed and organises the successful Academy for men and ladies. Complete beginners can learn the fundamentals of golf including rules and etiquette well enough to be competent golfers with a handicap in one year more or less. In addition Mark coaches golfers of all levels individually.
Many of his students are low handicap or scratch golfers and his reputation is well known in the Berks Bucks and Oxon area.
If you are unable to come to Henley Golf Club, Mark will quote for lessons to take place where you are or arrange a venue close by.